It's that time of year folks. Tinsel, mince pies and more festive films than you can shake a glitter covered stick at. Yes, the Christmas season is upon us, so sprinkle some cinnamon on your popcorn and settle down with these top five festive flicks…
1. The Nightmare Before Christmas

*What's this? What's this? There's colour everywhere. What's this? There's white things in there…* That's right, the enduringly catchy stop-motion musical animation (genre bending much?) is a great way to kick off the Christmas season. In fact, it's acceptable to watch Jack Skellington and his Halloween town pals as early as the annual spookfest in my book. The surreally immersive world of Tim Burton's 1993 masterpiece offers a quirky alternative take on the traditional festive flick with Danny Elfman's musical score sure to have singing along well into the New Year.
2. Elf

A modern-day Christmas classic, the excitement and indomitable enthusiasm of Will Ferrell's Buddy during the festive season is infectious, reminding us all of the sleepless nights spent waiting for the man in the big red suit – fuelled on nothing but adrenaline and candy canes. Oh and he happens to be very funny too.
3. Home Alone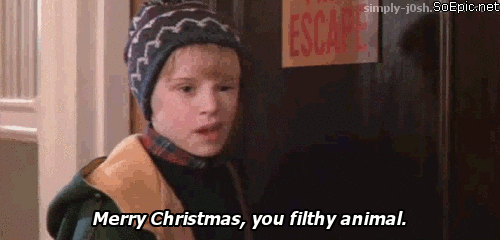 Who'd have thought a film about a young boy abandoned by his parents as they head off on vacation for the holidays and left to fend for himself against two crooks who set out to burgle the McCallister family home would make for such a downright hilarious festive flick? The film is perhaps best know for making a child-star of Macaulay Culkin as well as featuring two of the most adorably inept on-screen villains in Harry and Marv, played to winning slapstick effect by Daniel Stern and Jo Pesci.
4. Love Actually
A rom-com about ten interlinked tales of love and woe set during the Christmas period may sound cheesy. And it is. But when it's directed by Richard Curtis you know you're in good hands as the film retains that unmistakable British wit as well as a star-studded ensemble cast, including Hugh Grant as the Prime Minister who, in the film's most memorable scene, struts his stuff to 'Jump' through the halls of Number 10 Downing Street. Christmas doesn't get any better than that…
5. It's a Wonderful Life
Or perhaps it does in this perennial Christmas classic from 1946. Directed by Frank Capra, the film stars the unrivalled James Stewart as George Bailey, a man whose efforts to help others at the forfeit of his own ambitions leaves him contemplating suicide – prompting a little angelic intervention to show him what life would look life if he'd 'never been born at all'. What follows is a healthy dose of Christmas nostalgia, bittersweet storytelling and a knockout turn from Stewart – there won't be a dry eye in the house by the time the credits roll.